Day 5-7 A result of taking the easy way out
Today I was going to hitchhike from Munich in Germany to Linz in Austria. Not having done it for a really long time I had forgotten some of the basics… like starting out early. So I arrived at what I thought would be a good location at around 11.30 or so. Was standing there for 30 minutes trying to get a ride but didn't manage to get any cars to stop. Looked at my map and thought to go to a second location… when I came there it was already 12.15 and I knew my trip would take about 6-8 hours HH and I didn't want to arrive too late.
Thus I chose the lazy solution and went into the city to take a bus instead. (it was only 29 euro for a 4 hour drive… and they would have WiFi… so why not).
Okay… this is where the travel-gods decided to punish me for being lazy
* When I came to the bus the guy taking the tickets said that I would be able to buy beverages on board (which later turned out not to be the case)
* Once I jumped onto the bus it was freezing cold so I quickly jumped of to get my long trousers and jacket, but the driver said that once the luggage was in the stove I wouldn't be allowed to take stuff out of it… hem… I tried to persuade him a bit since it was 5 minutes until we would leave (and I had also forgot my kindle in the luggage) but he was stone cold… oh well.
* On the bus it turned out that the regular bus had broken down and that our replacement bus didn't have WiFi… oh well.. time for some shuteye then…
* The next thing that happened was that there was huge cues on the highway so the driver decided to take a "shortcut" through the woods which took us another 40 minutes.
* Once back on the highway we managed to get into an accident with a car that wanted to drive faster than us and then break straight in front of us. Nobody got hurt and the only damage was these tiiiny damages on the lights on the picture below.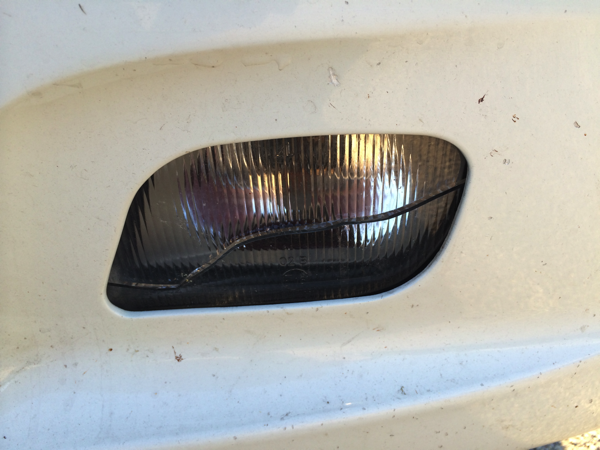 * German police officers are really thorough… at the moment we have been standing for almost an hour with them writing the papers of the accident.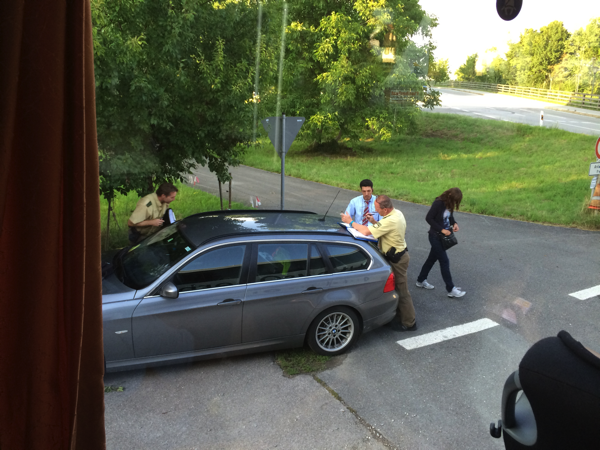 '* Oh, and of course I had a change in Salzburg and it seems as if I am going to have to buy another ticket to travel onwards on my own expense… and then send in the receipts to the bus company… guess that will be a fun adventure too…
So… ehm… the conclusion is: next time I'll go up a bit earlier and stick to my plan to hitchhike… seems both faster, safer and cheaper!